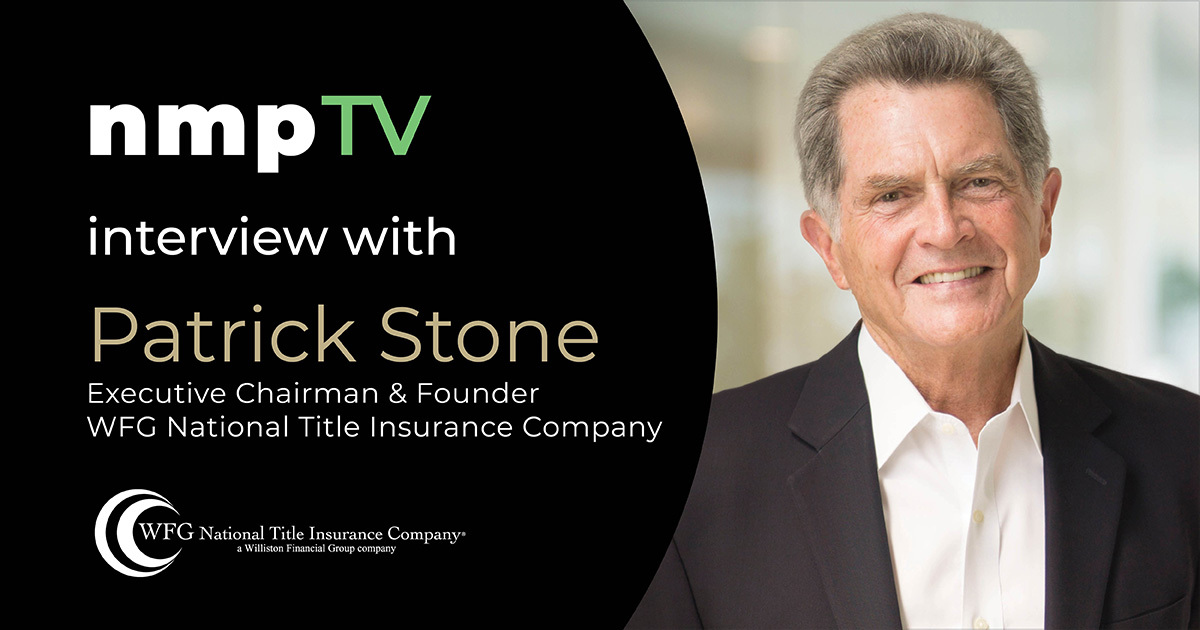 Patrick Stone discusses expanding the WFG Webinar Series he co-hosts with Bill Conerly
When the pandemic forced him off the road in 2020, and his 12 to 15 personal appearances to answer questions and provide insight directly to live industry audiences had to move online, WFG Founder and Executive Chairman Patrick F. Stone needed something more.
As he tells NMP's Andrew Berman in this video interview, he approached his longtime friend, Economist Bill Conerly, with a solution.
"Bill is a very bright guy and a wonderful economist," Stone says. "He's one of the few economists I know who will tell you what he thinks and not add a bunch of caveats. We were having coffee and I asked if he would consider participating with me in the Q&A webinar series for title agents. They would submit questions in advance and we'd answer those questions and give the best guidance we could."
Conerly's response was, "Let's do it."
WFG National Title's 'Quarterly Economic Forecast' Webinar series has been so successful in its first 18 months that on February 23, 2022, it is expanding to a full hour.
"We've heard about the issues that are really bothering agents," Stone continues. "But it has also shown me how desperate people are for real information. It's very hard to know what's going on unless an individual has the time and training to find out answers. So Bill and I have focused on providing more specific answers with information that is useful in helping title agents and industry professionals make business decisions."
Looking ahead to the expanded format, Stone knows that housing affordability will be part of every conversation this year.
"Affordability is a question mark at all times," he tells Berman. "It really is a reflection of the price of the home, the income of the potential borrower, and the interest rate. So interest rates are going up, housing prices have been going up, and while incomes have been going up, what is happening to affordability? We'll certainly be addressing that each quarter as we continue."
The webinar is free, but reservations are required and can be made here. Questions can be submitted in advance here.
Video Link: https://vimeo.com/678869711/80999b9a18
Registration and question site link: https://zoom.us/webinar/register/WN_GUrhOryHQrW7Hgml4dLA8Q