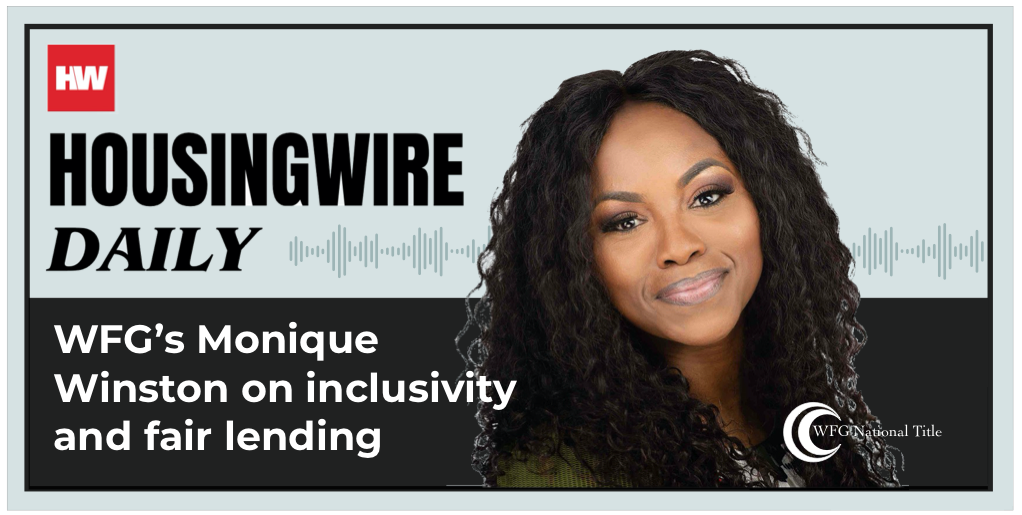 HousingWire Daily recently launched "Honest Conversations," an eight-week mini-series on Diversity and Inclusion. Monique Winston, Vice President of National Business Development at WFG Lender Services and co-Chair of its new Diversity and Inclusion Council, was the podcast's February 11th guest.
In the half-hour interview with host Alcynna Lloyd, available here, Winston provided informed perspective on how race continues to impact the home buying process and how focusing on democracy in housing is key to building generational wealth across all communities.
A 26-year veteran of the title industry and attorney, Winston is President of the Cleveland Realtist Association, a local chapter of the National Association of Real Estate Brokers (NAREB). With NAREB and now WFG's diversity council, Winston works to increase the rate of African-American homeownership, "not just for the sake of ownership," she told Lloyd, "but because of how it can enhance one's life and literally change generational cycles."
There remains a significant disparity between rates of white and black homeownership, about 74 percent to 44 percent.
"In fact fourth quarter 2020 saw a decline in the rate of black homeownership," Winston explained," down from 47 percent in the third quarter to 44 percent in the fourth quarter. But the rate was as low as 40.6 percent in third quarter 2019. These are numbers we were seeing before the passage of the Fair Housing Act, when it was actually legal to discriminate."
While much of the government and real estate industry practices that contributed to this –race-restrictive covenants, Federal subsidy laws that created restrictive areas, Jim Crow and others – are gone, the effects remain.
"You can outlaw all of that but it won't necessarily deal with the impact," she said. "Today, we probably don't see that many of those systematic things but we do see things on a more personal and individual level. And they contribute to the low rate of black homeownership.
"Let me be clear," she continued, "I'm not at all eliminating or excusing anything that has to do with someone's lack of personal responsibility. But these other barriers are just that – they're barriers that are sometimes insurmountable and will impede the biggest way to build generational wealth, which is through homeownership."
MEDIA CONTACT:
Darcy Patch
VP Marketing, WFG Enterprise Solutions
dpatch@poweredbywest.com
714-305-0136