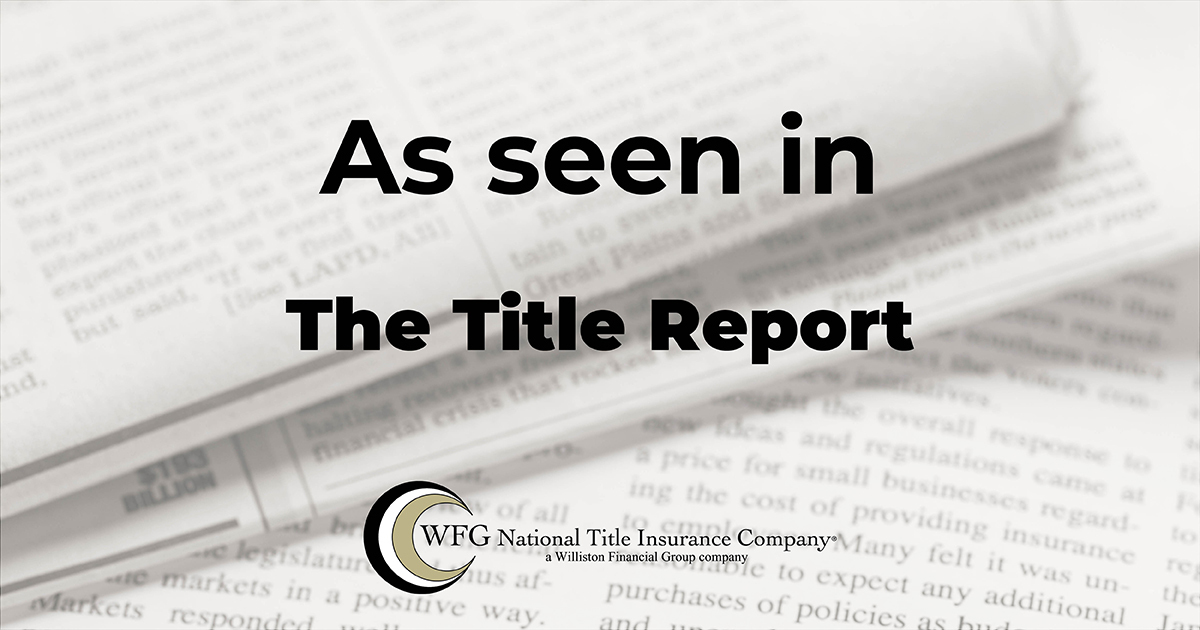 Another of WFG's six programs available for Title Agents to use, and pay for, as needed
A new article in The Title Report describes how a unique program created by WFG National Title Insurance Company offers its agents the same services the national title insurer uses for its direct operations.
WFG Blocks are six modular programs, available on an as-needed basis, at any time and in any combination, and without long-term or minimum commitments.
"These are services that do not necessarily have a market identity, so they can be used successfully without compromising an agent's established position in their market," explains Patrick Stone, WFG National Title's Founder and Executive Chairman.
The Marketing & Sales Block, in fact, is specifically designed to help agents boost their market identity and hone their sales strategies.
"We run direct operations in seven Western states and we're constantly learning what things work, what things don't, and what things we want to double down on because they're making a good impact," says Justin Tucker, WFG Executive Vice President and Director of Strategic Initiatives at WFG National Title.
"That's what this Block embodies," Tucker continues. "It's all of the lessons we've learned from a sales and marketing standpoint that we can translate over to our agency world and help them grow. Because at the simplest level, when they grow, we grow."
According to the article, the services and solutions available within the WFG Marketing & Sales Block are provided through WEST, a Williston Financial Group company. They can help an agent with content development and distribution, or refer them to one of WFG's Preferred Vendors for support with things like website development and deployment.
The Marketing & Sales Block also encompasses WFG's highly acclaimed Spark, a national event that offers all-around marketing best practices, including sales and technology strategies specifically geared for the title agency space.
"And once again we'll be holding our sixth Spark event in March 2022," Tucker said. "We will be putting relevant content and valuable information in front of agents that will help them find that competitive advantage. We bring in high-end, industry-leading speakers, as well as experts from outside the industry who can offer a unique perspective." More information on WFG's Spark 2022 event is available here.