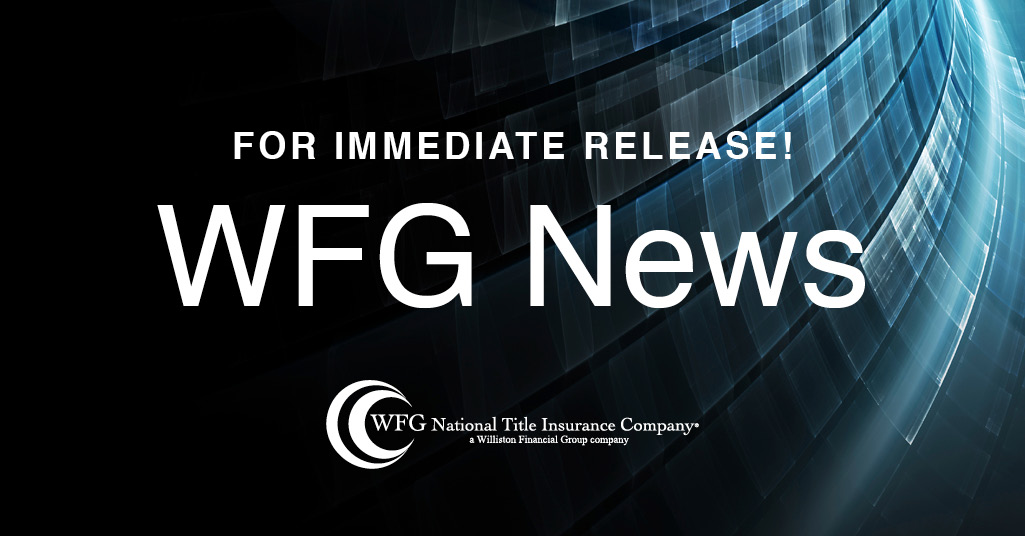 Mortgage servicing and default management professionals, foreclosure attorneys and trustees can now order comprehensive, low-cost foreclosure information reports nationally from WFG's top-rated Default Title Services group
Portland, Ore., June 21, 2022 – WFG National Title Insurance Company's Default Title Services division has expanded its default management offerings to include Foreclosure Information Reports on a nationwide basis. This expanded service offering complements the organization's existing roster of comprehensive national title and closing services offered by the company's Enterprise Solutions group.
The division's clients, which include foreclosure attorneys, trustees, and mortgage servicing and default management professionals, have long relied on WFG Default Title Services to provide highly customized services in a segment in which each transaction is nuanced and unique. While forbearance legislation and moratoriums had all but stopped foreclosure proceedings during the pandemic; these initiatives are now winding down and the need for foreclosure information products is making a return.
"Our Default Title Services division is committed to providing the same world-class service levels for which our parent company is known, and customizable solutions for all our clients is key to this effort, regardless of their size," said Senior Vice President Dean Kirchen. "During the last few years of moratoriums we were focused on helping our servicing clients handle forbearances and loan modifications; however, as the market adjusts, we are shifting our focus to helping them manage foreclosure transactions more efficiently and cost-effectively. The national availability of our Foreclosure Information Reports is a reflection of that commitment."
WFG Default Title Services offers national title and closing services for both loss mitigation and default, including:
Loss Mitigation Title and Closing Services
Valuation services
Property reports
Document signing and recording services
Lien priority insurance
Assignment verification
Title policy retrieval/replacement
Foreclosure and REO Title and Closing Services
Foreclosure information reports
Trustee Sale Guarantee
Litigation Guarantees
Deed-in-Lieu of Foreclosure
Short sale
REO title and closing services
Document retrieval
Recording services
WFG Default Title Services also has system integrations with the leading foreclosure platforms, which enhance operational efficiency for foreclosure attorneys, trustees and mortgage servicing clients.
"We work with all of the industry's largest foreclosure platforms to provide greater accuracy, reduce redundancy, and shorten timeframes," Kirchen said.
For more information on how WFG Default Title Services can help optimize the default management process, call 818-638-7505 or email tsg@wfgnationaltitle.com
About Williston Financial Group
Williston Financial Group (WFG) is the Portland, Oregon-based parent company of several national title insurance and settlement services providers, including WFG Lender Services and WFG National Title Insurance Company. One of six national underwriters, WFG achieved a national footprint faster than any title insurance provider in history. The WFG family of companies offers full-service title insurance and settlement services for use in residential and commercial mortgage and real estate transactions nationwide. For more information, visit www.WFGNationalTitle.com.
MEDIA CONTACT:
Darcy Patch
VP Marketing, Enterprise Solutions
WEST, a Williston Financial Group company
dpatch@poweredbywest.com
714-305-0136