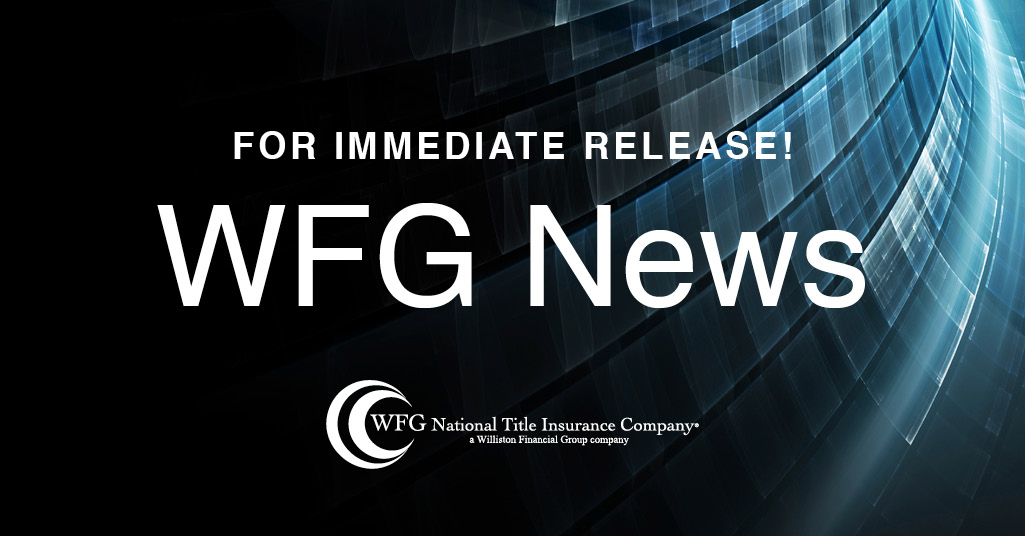 Experienced veterans join WFG National Title Insurance Company as it prepares to host its popular Spark Regional Midwest event in Dearborn, Michigan on September 14
Portland, Ore., August 5, 2021 – WFG National Title Insurance Company (WFG), a Portland-based, full-service provider of title insurance and real estate settlement services for commercial and residential transactions nationwide, has announced the addition of its two newest underwriters in Michigan. Rachel Richardson and Tory Vincent will both serve as Michigan State Counsel and National Agency Counsel.
"It is difficult to find underwriters with the type of multi-state experience that Rachel and Tory bring to WFG," said Alan Fields, WFG's Director of Underwriting Services. "We are pleased to add them to the team supporting our national agents, and know their talent and expertise will help our Michigan team rank among the nation's best."
Richardson, who holds title producer licenses in Michigan and Indiana, comes to WFG after seven years on the legal team at Amrock (formerly Title Source). Most recently she served as its Associate Corporate Counsel, handling the full scope of pre-closing and curative underwriting issues for one of the nation's largest title agencies. She earned her Bachelor's degree in International Relations from James Madison College at Michigan State University and holds her law degree from Michigan State University College of Law.
"For me, joining WFG was a no-brainer," Richardson said. "WFG is known throughout the title industry as one of the leading national title insurance underwriters because they continuously strive to provide the best service to their clients. I could not be more excited to be joining the exceptional WFG underwriting team and to be a part of this great culture."
"Rachel has deep experience in Michigan and the upper-Midwest," Fields said. "And her experience in lobbying and legislative analysis is the icing on the cake."
Vincent also comes to WFG from Amrock, where she concluded eight years on its legal team as Associate Corporate Counsel, also working to resolve pre-closing and curative issues. Her Amrock experience built on her years of clerking and volunteer experience that began in high school at a full-service law firm. She also spent a term interning for Judge Eric Cholack at the Wayne County Circuit Court in Detroit. She earned her B.A. from Wayne State University and J.D. from Western Michigan University Cooley Law School, and has been a member of the Michigan Bar since 2013. She also holds title producer licenses in Michigan and Indiana.
"Joining WFG was an easy and obvious choice for me," Vincent said. "Before joining, I had years of positive experience working with the talented underwriters at WFG, and it's wonderful to now become one of them and collaborate as a team to create the best agent experience."
"That Tory has deep experience in Michigan courts gives added value to her role as Michigan State Counsel," Fields added. "She will immediately be a valuable resource to our national agents."
"Rachel and Tory each bring a wealth of industry knowledge to WFG and we're extremely excited to have them on our Michigan team," said Patrick Malone, VP, Great Plains and Great Lakes Region Agency Manager. "Both come to us from the retail side of our business, which uniquely enables them to understand, relate to and effectively address the unique issues and underwriting needs of our agency customers."
SPARK RETURNS
The addition of these two outstanding veteran underwriters to WFG's Michigan services comes as WFG prepares to host its 2021 Spark Regional Midwest event on September 14th, bringing one of the title industry's most popular forums back to a live, in-person setting.
This interactive half-day event brings together title and settlement services executives, business owners, salespeople, and marketers to learn, share andimplement the latest sales, marketing, and technology tools.
Scheduled speakers include Patrick F. Stone, WFG's Executive Chairman & Founder; Jeff Lobb, CEO of SparkTank Media; Speaker & Sales Coach Justin Tucker, WFG's EVP, Director of Strategic Initiatives; Justin Stutz, VP, Strategic Growth for WEST; and Sarah Hasch, Brian Nachlas, and Sam Trimble, Marketing Technology Directors for WEST, a WFG company.
Scott Stevenson, co-owner of Northwest Title in neighboring Ohio, is a longtime Spark attendee. "We've been sending people from our company to 'Spark' as long as we've been with WFG," he said. "I can't tell you how impressive it is. There is something new we bring back every time."
WFG's Spark events are open to all title agents. The Spark Regional Midwest event will be held at the Henry Ford Museum in Dearborn, Michigan on September 14, from 10:00 am to 3:30 pm. Click here to register.
WFG's National Spark22 Reboot event returns March 15-17, 2022 in Orlando, Florida.
About Williston Financial Group
Williston Financial Group is the Portland, Oregon-based parent company of several national title insurance and settlement services providers, including WFG Lender Services and WFG National Title Insurance Company. One of only six national underwriters, WFG achieved a national footprint faster than any title insurance provider in history. The WFG family of companies offers full-service title insurance and settlement services for use in residential and commercial mortgage and real estate transactions nationwide. For more information, visit www.WFGTitle.com.
MEDIA CONTACT:
Darcy Patch
VP Marketing, Enterprise Solutions
WEST, a Williston Financial Group company
dpatch@poweredbywest.com
714-305-0136