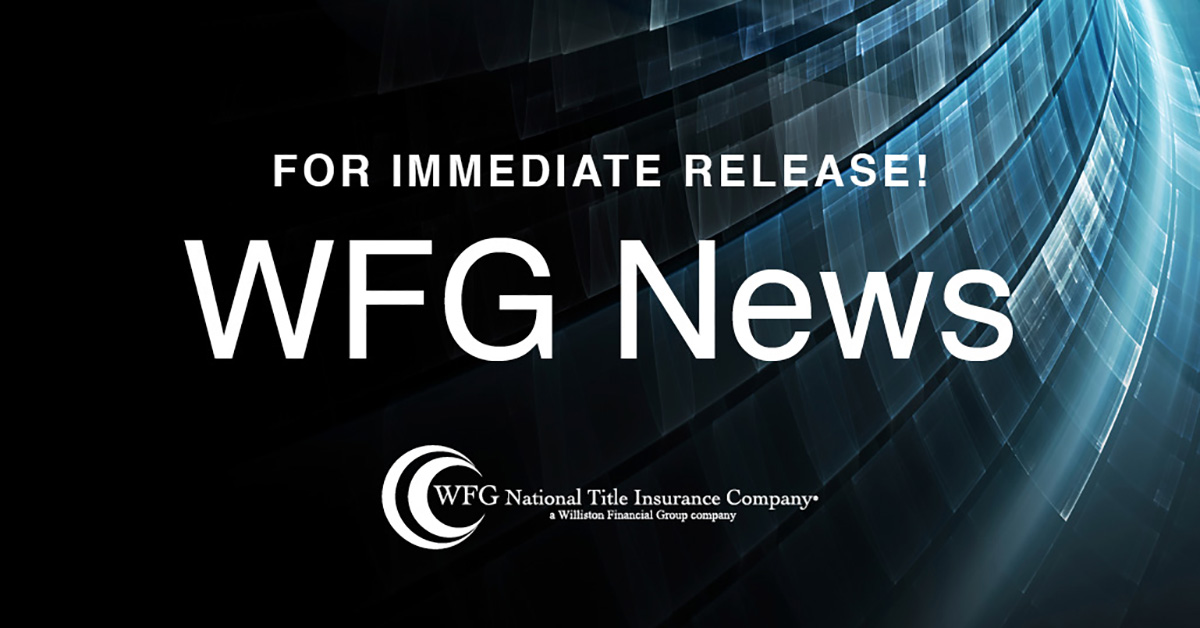 Portland, Ore., March 28, 2023 – WFG National Title Insurance Company's Lender Services division has expanded its DecisionPoint® Instant Title Solution suite to include Rapid Legal & Vesting services. This new offering complements the organization's existing roster of comprehensive national title and closing services offered through the company's Enterprise Solutions group.
The DecisionPoint Rapid Legal and Vesting Service provides home equity lenders with fully automated legal and vesting reports – including a recordable legal description from a property's last full-value transfer and verified vesting information from the most recent deed. Delivered as quickly as 30 minutes from request through the company's proprietary Valutrust® platform, WFG's Rapid Legal and Vesting offering is available to lenders of all sizes and features expedited account setup and standardized data delivery, enabling lenders to sign up and obtain needed property-related information quickly and efficiently.
"Home equity transactions are incredibly time-sensitive, with borrowers looking to access money quickly to fund home repairs, improvements, and other immediate expenses," according to Dan Bailey, Senior Vice President, WFG Lender Services. "The revenue profile for home equity transactions is very different as well, with lenders picking up most or all of the origination costs. For this reason, it's imperative for us to deliver accurate, high-quality products quickly and at a price point that makes sense for lenders. Our new rapid legal and vesting offering checks all of these boxes, as it's quick, accurate, and cost-effective," said Bailey.
WFG Enterprise Solutions offers national title and closing services for both refinance and home equity lending, including:
TITLE INSURANCE SERVICES: Informational, insured, and assured title reports.
CLOSING & ESCROW SERVICES: Client-dedicated teams perform comprehensive closing services, including curative, scheduling, closing, disbursement, and recording.
APPRAISAL & VALUATION SERVICES: Comprehensive appraisal management and valuation products and services through Williston Financial Group company Valutrust Solutions®.
CUSTOMIZABLE SOLUTIONS: Expedites home equity transactions by combining all the data lenders need – valuation, title, flood, and more – into a single report.
In addition to providing a full range of home equity lending solutions, WFG Lender Services also provides an exceptional experience for consumers. WFG participates in the Net Promoter® Score (NPS®) program, collecting consumer review data for all transactions. Since the program's inception several years ago, WFG's Lender Services division has consistently scored 70 or above on the NPS rating scale, which NPS creator Bain & Company classifies as "world-class." WFG also publishes its monthly and annual scores publicly and shares review data directly with its lender clients so they can benefit from it as well.
For more information on WFG Lender Services' DecisionPoint® Instant Title Solution suite and other offerings, call 877-274-3850 or email about@wfgls.com.
About Williston Financial Group
Williston Financial Group is the Portland, Oregon-based parent company of several national title insurance and settlement services providers, including WFG Lender Services and WFG National Title Insurance Company (WFG NTIC). One of six national underwriters, WFG NTIC achieved a national footprint faster than any title insurance provider in history. The WFG family of companies offers full-service title insurance and settlement services for use in residential and commercial mortgage and real estate transactions nationwide. For more information, visit wfgtitle.com.
MEDIA CONTACT:
Darcy Patch
VP Marketing, Enterprise Solutions
MyHome™, a Williston Financial Group Company
dpatch@myhome.com
714-305-0136