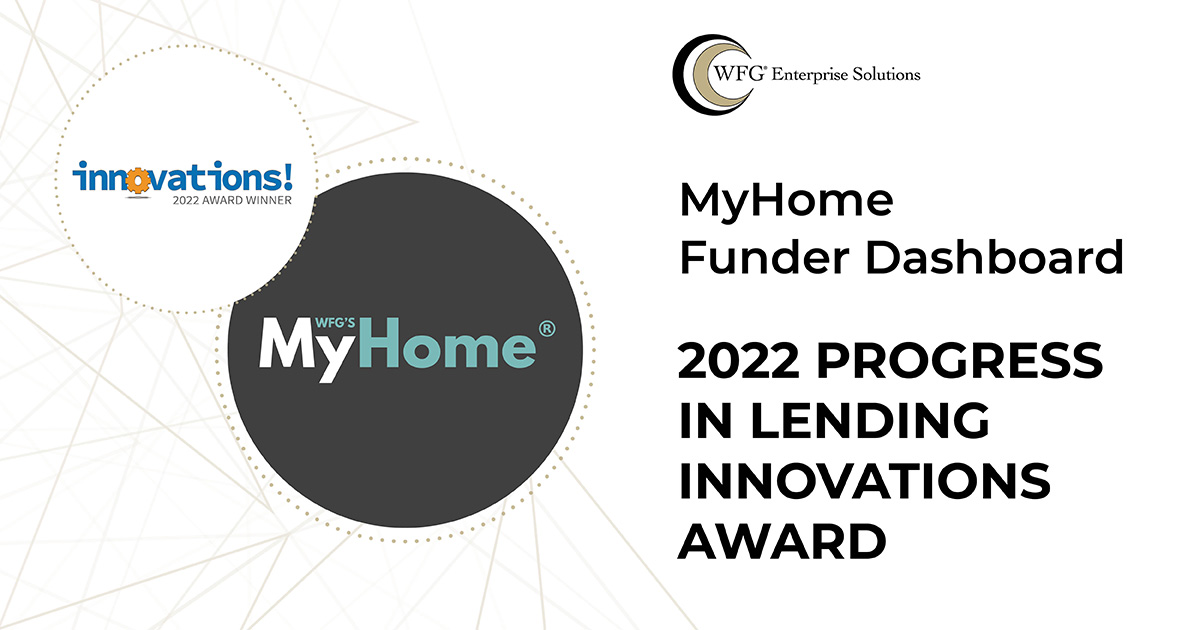 WFG's MyHome Funder Dashboard receives PROGRESS in Lending's annual honor
One reliable means of knowing how far the cutting edge of mortgage industry technology has extended each year is the annual Innovations Awards from PROGRESS in Lending.
On March 8, 2022, the 12th Annual Innovations Awards were posted online, with WFG's MyHome® Funder Dashboard among only 15 products and services cited.
In an accompanying video the PROGRESS in Lending Association's Executive Team took turns describing each of the past year's most important breakthroughs.
According to PROGRESS in Lending's Chairman and Founder Tony Garritano, "This honor is the Gold Seal when it comes to recognizing true industry innovation. All applications were scored on a weighted scale. We looked for the innovation's overall industry significance, the originality of the innovation, the positive change the innovation made possible, the intangible efficiencies gained as a result of the innovation, and the hard cost and time savings that the innovation enables industry participants to achieve."
In the video announcement, Molly Dowdy, co-founder of NEXT Mortgage Events and a PROGRESS in Lending executive team member, explained the reasons WFG's MyHome Funder Dashboard so deserved the recognition.
"MyHome Funder Dashboard builds on the success of WFG's MyHome portal and mobile app, which coordinate the roles of all parties involved in residential real estate transactions," she said. "Streamlining the closing process is key to delivering what lenders want: to deliver a faster, more secure mortgage process. By bringing all this information together in one place, MyHome Funder Dashboard eliminates redundant touchpoints and the potential for errors that can occur when funders are working a busy pipeline. MyHome Funder Dashboard gives mortgage lenders and closers instant insight into the history and status of every loan in their pipeline, along with the steps remaining to get to the closing table."
"Thanks to PROGRESS in Lending and its Executive Team for their efforts to help promote innovation in our industry," said Marty Frame, President of WFG's wholly owned technology subsidiary, WEST, a Williston Financial Group company.