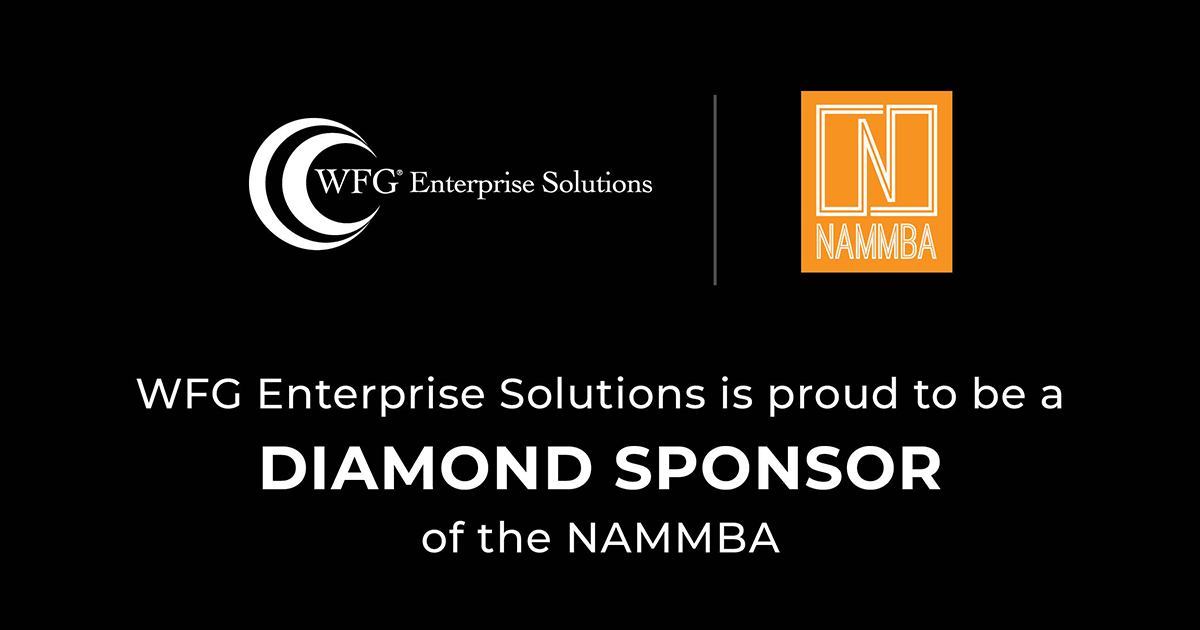 Collaboration to include WFG's Title Sponsorship of NAMMBA's 'Connect 2021' in September and providing education and career development for minorities in the mortgage industry.
Portland, Ore., March 09, 2021 – WFG Lender Services, a Williston Financial Group company providing services and technology solutions that enable lenders to take time and cost out of mortgage transactions, has launched a multi-stage partnership with the National Association of Minority Mortgage Bankers of America (NAMMBA) through its Enterprise Solutions group.
The partnership includes WFG's title sponsorship of 'Connect 2021,' NAMMBA's annual national conference in Atlanta, September 16-19. For its part, NAMMBA will facilitate outreach by WFG to its members and target community, not only to provide superior products and services, but also personal assistance, training and job opportunities.
"Our stronger collaboration with NAMMBA is part of WFG's ongoing efforts to promote diversity within our industry, as well as homeownership in minority communities," said Dan Bailey, SVP of WFG Lender Services and WFG Enterprise Solutions. "We will work together to increase the number of minority mortgage professionals and through them give more Americans who want to buy a home the knowledge and access they need to do it."  
"We applaud WFG for supporting our mission," said NAMMBA Founder and CEO Tony Thompson. "NAMMBA's members work in all segments of the mortgage and housing industry and serve sales, operations and servicing capacities within their respective organizations. Because NAMMBA membership is not limited to minorities and women, our members are from diverse backgrounds."
"This is one of the first of many initiatives that bring WFG into alignment with the vision of our corporate Diversity and Inclusion Council to promote the participation of minorities and women who seek success working across the mortgage industry," said Monique Winston, Vice President of National Business Development at WFG Lender Services. "We are proud to be an early supporter of NAMMBA and see many synergies across our respective organizations."
CONNECT 2021 CONFERENCE & TOUR
As a 'Connect 2021' Diamond Title Sponsor, WFG will help NAMMBA in its mission to bring together senior executives, industry stakeholders, sales, operations and real estate professionals for this year's conference, which is currently slated to take place in-person. Due to the pandemic, the 2020 conference took place virtually.
In connection with the national conference, the 'Connect 2021 Tour' will hold one-day events in six cities to provide sales training to loan originators and real estate agents. The tentative schedule, which runs September 23 through November 18, begins in Washington, DC; then moves to Chicago on October 1; Philadelphia on October 5; Houston on October 14; Riverside, California on November 4; Richmond, Virginia on November 16 and concludes in Orlando on November 18.
This is a pivotal time for expanding diversity within the profession and American homeownership. WFG Founder and Executive Chairman Patrick F. Stone has repeatedly expressed optimism and support for a resurgence of first-home building and buying.
"The first-time homebuyer market basically died with the Great Recession and it had just started to show life in 2019 as people were optimistic that the nation's homebuilders would start building subdivisions of first-time homes," Stone said recently. "That started to occur early in 2020, but the pandemic kind of slammed that and now we need to see a strong first-time homebuyer market before the builders will really commit to building starter homes on a large scale.
"The income inequality issue has been exacerbated by the pandemic," he continued, "and it's probably more about getting lower-income people stabilized and earning enough to be able to afford a first-time home. But I think within a couple of years we'll see a first time homebuyer market really reemerge again."
The partnership with NAMMBA is another opportunity for WFG to expedite these changes, by making inroads into communities where local lenders and agents can establish trust and viability with the families who will be homeowners in the next few years.
Thompson has acknowledged this critical opportunity, writing, "In the housing sector, women, Hispanics, African Americans and Asians are expected to become a key driver in the first-time homebuyer market and will comprise as much as 75 percent of new home purchases. NAMMBA members are an important link to these homebuyers. As trusted advisors, NAMMBA members will make the dream of homeownership a reality."
For more information about WFG Enterprise Solutions, call 877-274-3850 or email about@wfgls.com. 
To register for 'Connect 2021' visit NAMMBA events.
About WFG Lender Services
A Williston Financial Group company, WFG Lender Services is a national settlement services provider that leverages superior technology and closing processes to take time and cost out of the mortgage lending transaction. Rated "World Class" with an annual Net Promoter Score of 77, WFG Lender Services employs a consultative approach and adapts its services to meet the needs of each customer in order to help them increase efficiency, reduce risk and enhance overall customer satisfaction. For more information, visit www.wfgls.com.
About NAMMBA
NAMMBA, which marks its 5th Anniversary in 2021, is a national trade association dedicated to the enrichment and betterment of minorities and women who work in the mortgage industry. Founded by industry veteran Tony Thompson CMB, NAMMBA's mission is to increase the engagement of minorities and women in the Mortgage Banking Industry at the local, state and national level.
MEDIA CONTACT:
Darcy Patch
VP Marketing, Enterprise Solutions
WEST, a Williston Financial Group company
dpatch@poweredbywest.com
714-305-0136