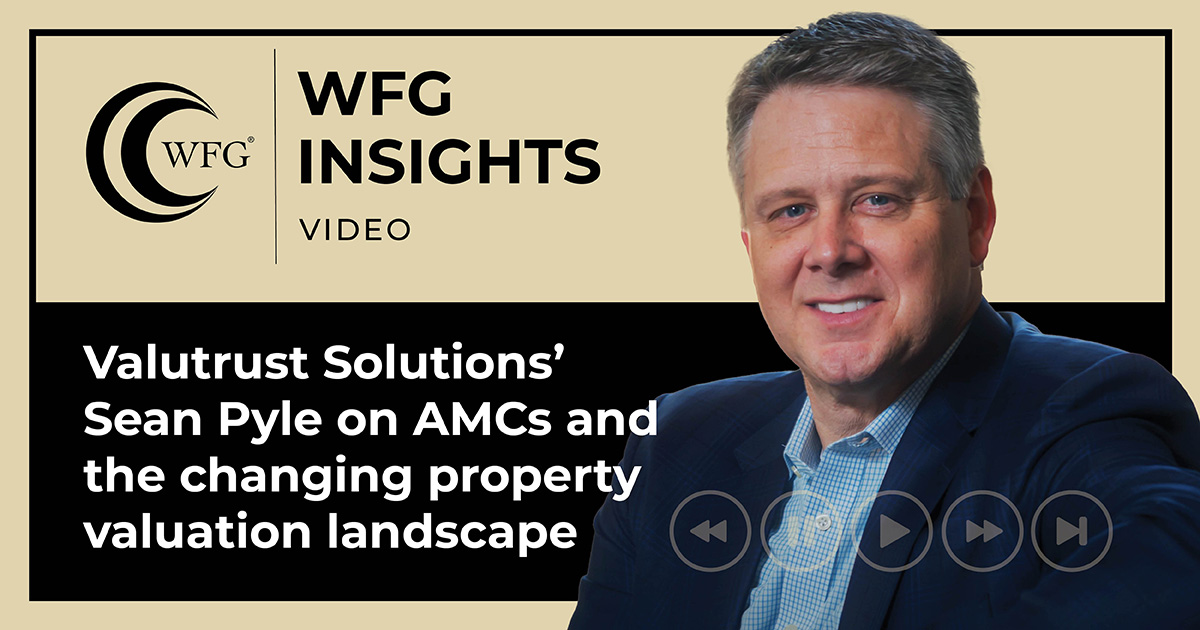 Sean Pyle, the President of Valutrust Solutions, WFG's appraisal management company and property valuation service provider, is WFG Insights' latest interview.
Valutrust Solutions, he says, continues to "bring a marriage of technology and service-mindedness to evaluation services," while expanding its role into an evaluation services partner.
"A lot of our clients and industry participants are looking for other products and services that fit under that umbrella," he says.

Regarding an optimal number of AMCs for a lender, he says, "You need to have enough partners to effectively accomplish your goals, but not so many that your partners can't be successful creating efficiencies in your processes. At Valutrust, we've seen how more volume allows us to better know the lender's operations and its teams and become a true extension of the operation."
"This is especially important in understanding a lender's technological vision," he adds, "and how it best interacts with platforms or other technologies. That is essential for Valutrust to create greater efficiencies for the lender."
"Not all AMCs target the same type of lender or develop things of interest to every lender," he says. "Across the landscape of lending, there are lenders with different models, philosophies and individual focus. Looking for the right fit is the most important place to start when looking for an AMC."
Asked how expanded use of desktop appraisals will impact real estate transactions and the mortgage origination process, Pyle says his initial reaction is cautious, but the industry is genuinely working to speed evaluation products and services, and this is part of that initiative.
"I think there's a strong and smart approach that's being taken," he says. "There's very specific order types right now that are going to be eligible effective in March. The idea of a desktop appraisal has been out in our industry for years and has been used in different segments, but specifically for origination. I think this is the first foray to figuring out how it can bring relief. The lenders I talked to are less concerned about saving costs and more interested in improving the consumer experience. They want it to be an avenue that helps reduce turn time, and I am optimistic it will be able to do that."