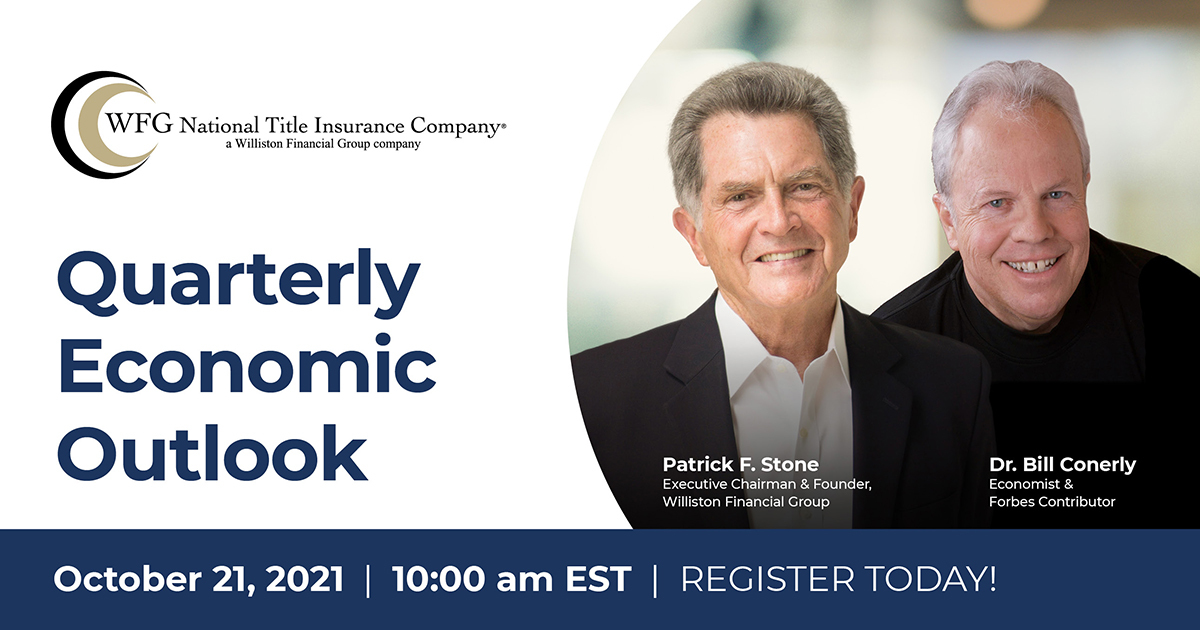 The two thought leaders answer pre-submitted questions from industry professionals about the state of real estate, mortgage lending, title insurance and the economy.
Portland, Ore., October 5, 2021 – WFG National Title Insurance Company, a Portland-based, full-service provider of title insurance and real estate settlement services for commercial and residential transactions nationwide, will host its fourth quarter 2021 "Economic Outlook & Title Insurance" webinar on Thursday, October 21, beginning at 7 am PT / 10 am ET.
The half-hour Q&A webinar will reunite Williston Financial Group Executive Chairman and Founder Patrick F. Stone and Economist and Forbes contributor Dr. Bill Conerly to answer topical questions submitted in advance from industry professionals across the country.
This will be the fourth in the series of webinars that take place on the 21st day of the first month of each quarter. As they mark a one-year anniversary, the two business veterans continue to build a national audience. Questions will likely focus on the current state and future direction of the economy in general, to issues surrounding real estate, mortgage lending and title insurance.
Attendance is open to all, but reservations are required, and may be made in advance by registering here. Those wishing to submit questions for consideration must email them to wfgagencyevents@wfgnationaltitle.com no later than 5 pm ET Monday, October 18, 2021.
Topics discussed in the previous webinar were the immediate prospects for mortgage rates, which hit record lows 16 times during 2020, and whether migration away from major city centers, which accelerated as people looked for better homes and less crowded neighborhoods amidst the uncertainty of the pandemic, would continue to fuel mortgage activity. In July, the two industry veterans agreed inflation was coming, but disagreed on how severe and lengthy it would be.
"Consumers are spending money," Conerly said. "Businesses are ordering more equipment. Residential construction is going about as fast as possible given the availability of lots, labor, and materials. For the next six or 12 months, the overall economy is going to be in very strong shape."
Asked what that means for housing, Stone replied that, "home price appreciation will slow down [and] home values will level out over the next year. It's going to take about three to five years to catch up with the demand, even at the 1.5 million rate for building new homes."
The previous three 2021 webinars may be viewed here: January 21, April 21, and July 21[1].
Stone's lengthy career in real estate and related services includes C-level positions with three public companies and serving as a director on two Fortune 500 boards. His senior executive management positions include nine years as President and COO of the nation's largest title insurance company, Chairman and co-CEO of a software company, and CEO of a real estate data and information company. Stone also served as Vice-Chairman of Metrocities Mortgage, a 2005 top-20 mortgage lender, and as Chairman of The Stone Group, an Austin, Texas-based tenant-represented brokerage company. In 2013, Inman News named him one of the year's "100 Most Influential People in Real Estate." Stone received HousingWire's coveted Vanguard Award for lifetime career achievement in 2019 and again in 2021, was recognized in 2019 and 2020 as a Lending Luminary by Progress in Lending, and was the recipient of October Research's annual Leadership Award in 2020.
Conerly earned his Ph.D. in economics from Duke University and has more than 30 years' experience helping companies adapt to changing economic conditions. He was formerly Senior Vice President at a major bank and held positions in economics and corporate planning at two Fortune 500 corporations. He is also an online contributor to Forbes, Chairman of the Board of Cascade Policy Institute, and the author of The Flexible Stance: Thriving in a Boom/Bust Economy (2016) and Businomics (2007), a book about economics for business leaders.
Seat reservations: https://zoom.us/webinar/register/WN_alTCMSpiQtGHYPWfZF26wQ
Submit questions via email: wfgagencyevents@wfgnationaltitle.com, or CLICK HERE
________
About Williston Financial Group
Williston Financial Group (Portland, Oregon) is the parent company of WFG National Title Insurance Company, WFG Lender Services, WFG Default Services, Valutrust Solutions, LLC, WEST and other title, settlement and technology solutions providers. It is one of the fastest growing national title insurance and settlement services providers in the mortgage and real estate services industry.
---
MEDIA CONTACT:
Darcy Patch
VP Marketing, WFG Enterprise Solutions
dpatch@poweredbywest.com
714-305-0136