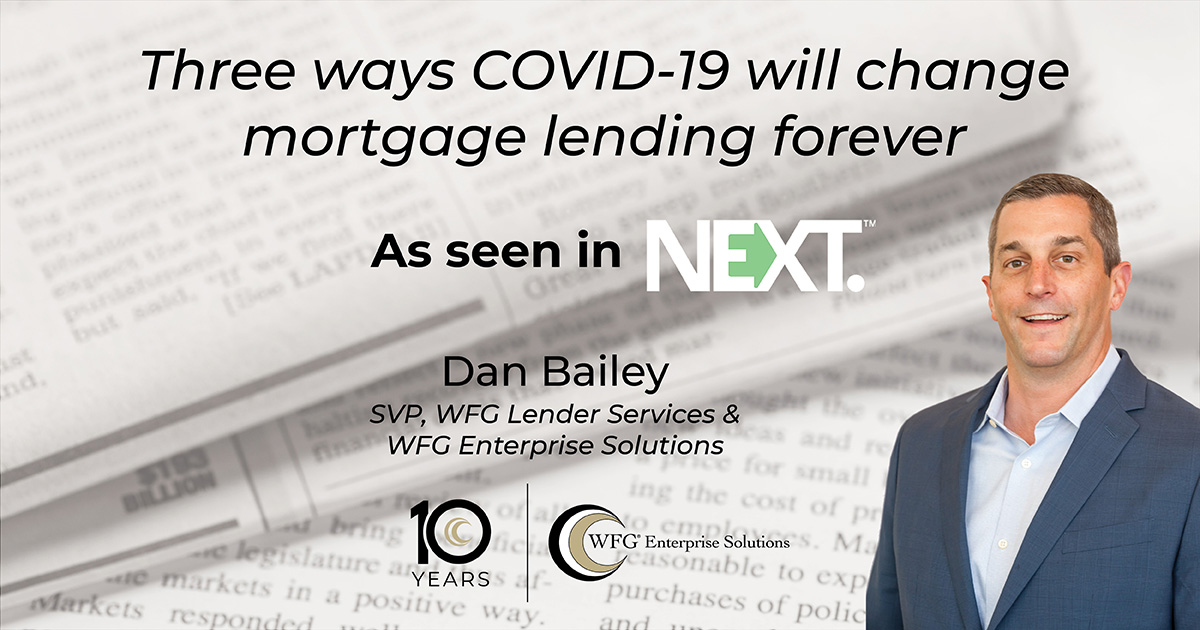 NEXT's Jeri Yoshida asks WFG Lender Services and Enterprise Solutions SVP Dan Bailey for three ways COVID-19 will change mortgage lending forever.
Dan's number one response is that the sales and marketing of mortgage lending services are "never going to be the same." Given that quarantining has made borrowers more Internet-connected than ever, they "expect an accelerated, digital process." So, every step of the lending process needs to be optimized. WFG's DecisionPoint, he suggests, is one way to quickly clear title "by analyzing property encumbrances and applicant circumstances to immediately project a reliable clear-to-close timeframe."
Secondly, he feels the mortgage industry is now motivated to have participants in the process be better coordinated, but that without a standard closing option for Remote Online Notarizations, for example, we simply don't have a viable option in place. Enacting national RON acceptance, and other proactive partnerships "will allow us to be more aligned in our response and enable the industry as a whole to get on the same page, quicker."
Finally, the operational changes precipitated by the work-from-home shift will have benefits, but also carry inherent dangers. While "virtual home viewings, drive-by closings [and other] do-it-apart options will become more common … to make sure all of these transactions are safe and secure, the implementation of stronger cybersecurity measures will become a necessary part of the remote life."
NEXT, which was launched in January 2018 to give women greater access to competitive intel and the exchange of networking-based information, holds lender-centric events three times each year, including an executive mortgage summit for high-ranking women executives.