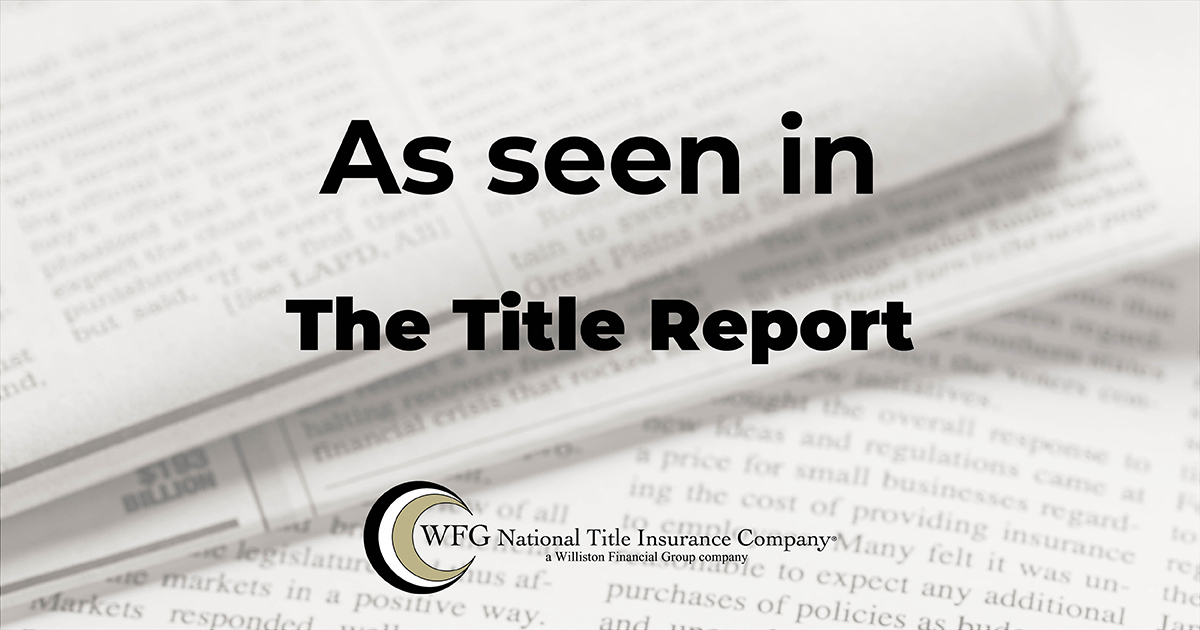 WFG National Title's EVP of Agency Operations offers sound advice for Title Reps
"It's been a wild and exciting two years in the real estate and title industry," Baron C. Buss, EVP of Agency Operations for WFG National Title Insurance, reminds us in this new article from The Title Report.
But as its title, "Fresh Year, Fresh Start," suggests, what's important now is to look ahead.
While Buss admits that it's understandable to have some anxiety about those things in 2022 we cannot control, like the market, seasonality, and rates, we must focus on what we control, such as "our vision and strategy."
He advises we "assess how we measure performance and success." And to help expedite that process he outlines "ways to increase your company's value, which will be critical in a slowdown."
Here is an abbreviated list:
Be prepared – Preparedness and success in 2022 can be easily adjusted to one overshadowing approach – improving your margins.
Adjust your mindset – A margin-focused mindset, focused on distinct improvement methods, will ultimately create a more valuable company.
Look in the right places – Challenge yourself to offset any rate driven or seasonal declines with new business.
Be good to yourself –Our industry is finally embracing AI / machine learning and robotic processing, not to eliminate the need for humans, but to be used for specific functions, whilst directing complicated tasks for a human brain.
Know what you want – The right partners are critical. There are a vast array of business solutions for title agents.
"I encourage you to use 2022 wisely, as I believe two mindsets will emerge," Buss concludes. "One will stick their head in the sand while the other will embrace change, strategically reshaping how they do business and measure success. Again, improvements must drive scalability, margins and more company value. Thus, whatever wave comes, your business is prepared and will profit nicely.
Here's to a transformative 2022!"
To get all the detailed suggestions and examples, read The Title Report article here.