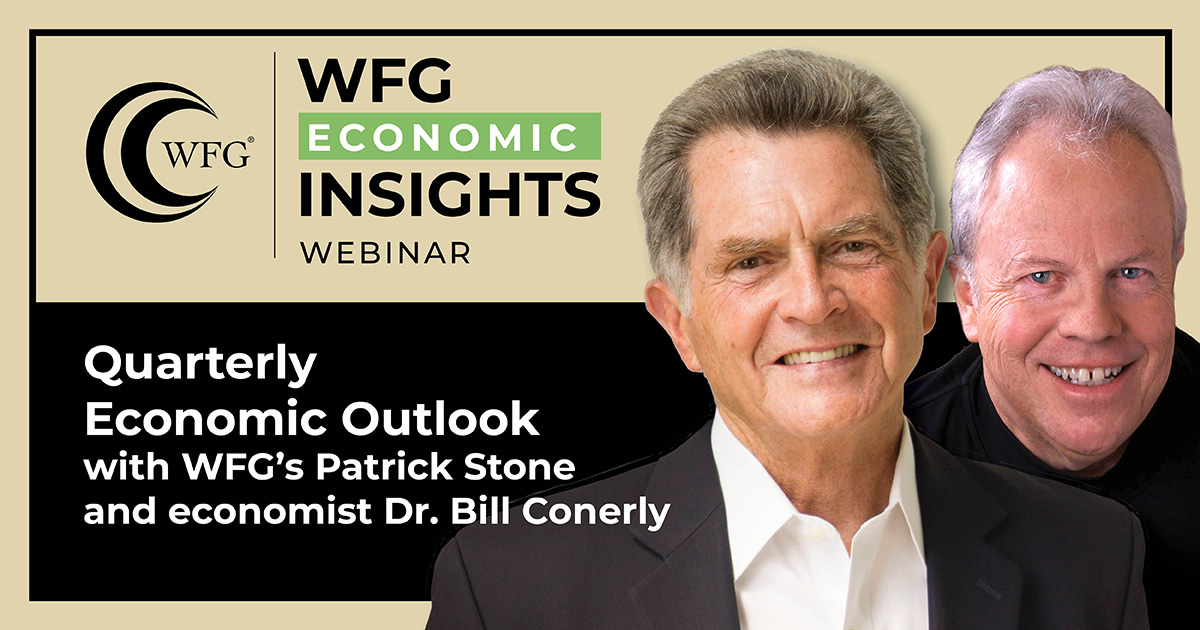 WFG Founder and Executive Chairman Patrick Stone and Economist Bill Conerly open hour-long
Q1 webinar with individual predictions on the economy, the title industry and real estate
Now expanded to an hour, WFG's Q1 "Quarterly Economic Outlook" webinar on February 23rd gave Patrick F. Stone, Founder and Executive Chairman of WFG National Title, and noted Economist and Forbes contributor Bill Conerly time to delve deeper into how inflation, cybersecurity, rising interest rates, labor and supply chain issues, and more will impact the economy in 2022.
Entering their fourth year of online economic analysis for title agents and other professionals in real estate and lending, they each offered their own overview before answering pre-submitted questions from the audience.
Conerly acknowledged that the most important economic statistic for business leaders in 2022 is not an economic statistic but "the number of COVID cases, hospitalizations, and deaths."
"I am assuming that COVID does not go away but with fewer cases, fewer hospitalizations, fewer deaths, we will head towards normal," he said. "Not arriving at normal, but heading towards normal in terms of willingness to eat out, the schools being open, people will travel."
Consumers are "in great shape" entering 2022, he added.
"They're the most important part of the economy [and] they ended up with a lot of money in their bank accounts from stimulus payments," he continued. "Some people are hurting, but in the aggregate, consumers have more income."
Conerly later addressed the aggregate GDP, predicting it would remain about where it would have been.
"But we've got a lot of demand and limits on production due to supply and labor factors," he said. "The fiscal stimulus and monetary stimulus were hugely in excess of the growth of our productive capacity and as a result we're seeing fairly high inflation now, somewhere near 6.5 percent. And although there will be some supply improvement, I think inflation is going to stay high."
Stone believes that an impact of the pandemic on real estate is "a fundamental change in the perception and value we place on the quality of where we live and how we live."
Regarding the title industry, he foresaw concerns over changes coming to cyber security, technology, consolidation, and regulations.
"Number one is cyber security," he said. "I want to tell you straight up, if you haven't had your system audited and looked at, please do so. Our subsidiary WEST provides cyber security audits. Use us or use somebody, but take a look at your cybersecurity. Because of the Ukraine issue, cyber threats from Russia are going to go up in a significant manner and it's going to be a real problem in our industry."
The second half-hour was spent answering pre-submitted questions from industry professionals.
The entire webinar is available for viewing below.