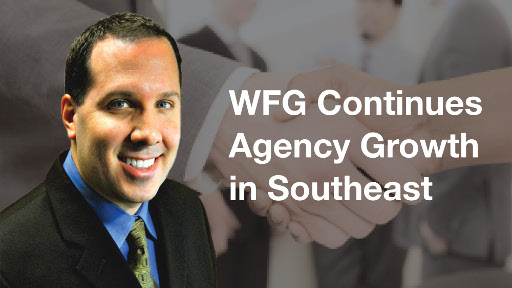 Nalbone to serve agents in Virginia and regional group
Santa Barbara, CA July 24, 2014       WFG National Title Insurance Company ("WFG National Title") has added Anthony Nalbone as Agency Sales Consultant serving the Southeast Region. WFG National Title is a full service provider of title insurance and real estate settlement services for commercial and residential transactions nationwide.
As Agency Sales Consultant, Nalbone will focus on providing support services to WFG National Title agents in Central/Southern Virginia, including a number of large and multi-state agencies based in the region. Previously, Nalbone held the position of Vice President, Sales Division Manager for a major national title underwriter. Before that, he held a similar position as Vice President and County Manager for a large National Title Agency, recruiting and expanding offices into a new market.   Nalbone was formerly a Vice President and Alliance Partner for LandAmerica Financial Group's family of companies. He has extensive experience within the title and settlement services industry, including starting, running and growing successful title and mortgage operations with a heavy emphasis on using technology to maximize sales revenue. His background includes expertise with sales and marketing, partnership development, as well as with mergers and acquisitions.
"Anthony is well known and well regarded in our industry, and has been for years," said Thomas Klein, Senior Vice President, Agency, Southeast Region. "He has a stellar and well-deserved reputation with colleagues and clients alike as a superior resource willing to go to any length for his agents, which makes him a natural fit with WFG."
Nalbone can be reached at 602.820.6264 or AnthonyNalbone@wfgnationaltitle.com
About WFG National Title Insurance Company
Portland, Oregon-based WFG National Title Insurance Company, a Williston Financial Group Company, is a national provider of premium title insurance and settlement services to the real estate and mortgage industry. The fastest growing national title underwriter, the WFG family was the nation's seventh largest provider of title insurance at the end of the third quarter in 2013, three years after its entry to the market. (Based upon market share. Source: American Land Title Association http://www.alta.org/industry/financial.cfm). WFG National Title also delivers a wide variety of residential and commercial mortgage lender services, including default and real estate owned transactions. The company enjoys a Financial Stability Rating of A' (A prime) as assigned by Demotech, Inc. Built around the directive to "communicate, collaborate, coexist," WFG National Title Insurance Company is committed to applying a new philosophy to the traditional mortgage and real estate industry, working to meet the changing needs of its clients, agents and associates. For more information, please go to www.WFGNationalTitle.com.
The post WFG Continues Agency Growth in Southeast, Adding Veteran Development Professional appeared first on WFG National Title Insurance Company.