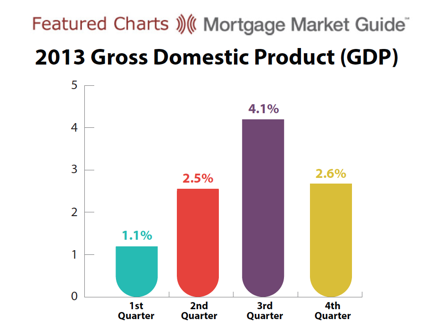 Body: According to Mortgage Market Guide 4th Quarter GDP declines from 4.1% to 2.6%.
"The Bureau of Economic Analysis (BEA), an arm of the Commerce Department, reported on Thursday that the final reading of 4th quarter 2013 Gross Domestic Product (GDP) came in at 2.6%, well below the 4.1% recorded in the 3rd quarter. For all of 2013, GDP averaged 2.6%, a modest number considering how much and how long the Fed has been underwriting the economic recovery through Quantitative Easing. Within the report it revealed that consumer spending in the final quarter rose by 3.3%, the best in three years.
GDP measures the output of goods and services produced by labor and property in the U.S."
The post 4th Quarter GDP Declines appeared first on WFG National Title Insurance Company.